Museumplein
Amsterdam
1999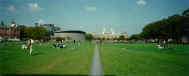 De ruimte van het Amsterdamse Museumplein vormt een contrast met de beslotenheid van de oude binnenstad en de omliggende buurten. De maaiveld-inrichting is een ontwerp van de Deense landschapsarchitect Sven Ingvar Andersson. Twee garages,een supermarkt, pavilioens en kiosken zijn in nauw overleg met Andersson door ons ontworpen. Aan de zijde van de van Baerlestraat is ondergronds een garage voor ±600 personenauto's en een supermarkt van ca. 2000 m² gerealiseerd. De toegang tot de garage en de supermarkt bevindt zich onder een schuin oplopend grasveld, onderdeel van Anderssons maaiveld ontwerp, waaronder de toegangscontrole voor auto's en liften en roltrappen zijn ondergebracht. Bij de inrichting van de garage hebben wij ons laten leiden door het principe 'maak een garage voor voetgangers'. Doordat geen bovenliggende bouwconstructies aanwezig zijn kon de constructieve indeling geheel worden bepaald door een zo gunstig mogelijke routing binnen de garage. Volgende stap is dan het moment waarop de automobilist voetganger wordt. Inrichting, atmosfeer en routing zijn op de maat van de voetganger bepaald.,Vanuit elk punt in de kamvormige parkeerstructuur is er een rechte, overzichtelijke looproute naar een voetgangerstraverse,van waaruit de toegangen aan het Sandbergplein (musea) en de van Baerlestraat (Concertgebouw, openbaar vervoer) bereikt worden.
In de traverse is daglicht aanwezig, en er wordt d.m.v. wisselende exposities een relatie gelegd met de nabij gelegen musea en het Concertgebouw.
De garage is in 2001 bekroond met de EPA-award, een onderscheiding voor de beste Europese parkeergarage.
Aan de zijde van het Rijksmuseum bevindt zich een ondergrondse garage voor 25 autobussen, en zijn twee pavilioens en kiosken gerealiseerd.
In een van de paviljoens is het Cobra-Café ontworpen, een interieur geïnspireerd door de kunstenaars beweging Cobra.
Het Museumplein ontwerp van Sven Ingvar Andersson werd in 2008 bekroond met de XIX International Carlo Scarpa Prize for Gardens.
The Museumplein is one of Amsterdam's most important public squares. Home to some of Holland's most important cultural institutions as the Rijksmuseum, the van Gogh museum, the Stedelijk museum and the Concertgebouw, the Museumplein by tradition has been the natural venue for large outdoor manifestations and events such as demonstrations, open-air performances and exhibitions. Its commanding presence lends the location a majestic grandeur, rather than the charm and intimacy found elsewhere in the city. The spectacular ground-level layout was designed by the Danish landscape architect Prof. Sven Ingvar Andersson. In close collaboration with Andersson, Zaanen Spanjers cs designed two underground parking garages for cars and buses and an underground supermarket, as well as kiosks and two pavilions which accommodate a museum shop and the Cobra Café.
People were put centre-stage in the design of the underground spaces, taking the human dimension and perception as a starting point. The two-level car park has column-free spans, elevated ceilings, a clearly marked one-way system, diagonal and commodious parking spaces, no visible cables or ducts, subdued acoustics, excellent lighting and facings which are pleasing to the eye. A clever layout in which a permanent partitioning of the pedestrian access routes makes it for car drivers and pedestrians alike a pleasure to visit this high quality car park.
An impressive-looking, separate enclosed pedestrian passageway, flooded with daylight, has been constructed on the side of the car park giving direct access to the specific parking bays, thus avoiding long walking routes on the parking decks. Technically advanced ventilation systems, using low-noise ventilators, ensure optimum air quality in the park. Spacious entrance and exit gates, equipped with speed-gates for extra security, ensure that drivers can feel both relaxed and safe when parking in the heart of Amsterdam. The by locals and tourists well accepted car park affords direct access to an Albert Heijn Supermarket. The first Dutch underground bus garage, with room for 25 tourist buses, is located on the north side of the square, close to the museum entrances. Being the endpoint of an often long bus-trip, for lots of tourists this garage is the first sight of Amsterdam, so the design was made with the same care for detail and feeling.
The project was awarded with the European Parking Award 2001 in the category 'Newly built car parks'.
The Museumplein was awarded the XIX International Carlo Scarpa Prize for Gardens in 2008.