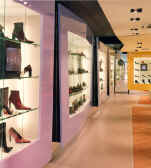 Shoebaloo is een van de weinige designers' shoeshops in Nederland. Shoebaloo verkoopt uitsluitend schoenen en accessoires van internationaal bekende producenten en ontwerpers. De schoenen van Shoebaloo kenmerken zich door een hoog lifestyle gehalte. Het zijn exclusieve producten, die appelleren aan een originele, modebewuste smaak.
Het interieur van de nieuwe Shoebaloo vestiging speelt daarop in. De producten worden getoond in rondom verlichte vitrinekasten. Ze staan niet gegroepeerd, maar worden als unica in aparte vakjes getoond. Als kleine kunstwerkjes, mooi om te zien, uitnodigend om aan te raken, te betasten, het waard om gedragen te worden.
De ruimte maakt een grote, ruime indruk. Dit wordt versterkt door het geknikte, verlaagde plafond. De wandkasten, voorzien van uitbundige gekleurde lijsten, zijn eveneens geknikt, waardoor een beweging, een ritme ontstaat. Door die beweging worden de wanden zelfstandige elementen, die de aandacht wegnemen van de kwantiteit en uitnodigen tot inzoomen op de kwaliteit. De kleurstelling, de monitoren, waarop beelden van modeshows en lifestyleprogramma's, en het alom aanwezige glinsterende glas appelleren aan het modebewuste, trendy gevoel. De ruige houten vloer contrasteert met de subtiele, vaak verfijnd gedetailleerde schoenen. Grote, uitnodigende banken en warm wollen tapijt noden tot zitten, passen, proberen. En bekeken worden.
Shoebaloo is one of the few designers' shoeshops in the Netherlands. Shoebaloo exclusivly sells shoes and accessories by internationaly reknown manufacturers and designers. Shoebaloo's shoes are characterised with a distinguished lifestyle-look. Exclusive products, appelling to an original, fashion concious taste.
The interior of the new Shoebaloo shop takes advantage of that. Products are shown in glass display cases, lit from all sides.
They are not grouped together, but shown as unique examples in separate partitions. As small works of art, beautifull to see, inviting to touch and feel, worth to be weared.
The shop makes a spacious impression. This is enhanced by the bended ceiling. The wall cabinets, furnished with brightly colored frames, are also bended, creating a movement, a rhytm in the space. This movement turns the cabinets into independent elements, that take away the attention from quantity and invite to zoom in to quality.
The colors, the video-screens showing fashion parades and life-style programs, and the twinkling glass all around appeal to the trendy, fashion concious feeling. The unpolished wooden floor contrasts with the elegantly detailed shoes. Large couches and warm woolen carpet invite to sit down, try out, fit. And be looked at.